IBBA MEMBERS
To be listed on this page, you must include the relevant Keywords in your Keywords text block in your membership details.
Click link at top right to log in to your membership details update page.
The Butterfly Farm Store!
In the Butterfly Farm Store you can find IBBA members who offer a range of products and services other than live butterflies.
Looking for Live Butterflies? Click HERE.
Please select a category to display:
If no members are displayed, it means that there are currently no members offering items in your selected category.
Butterfly Display Cages & Baskets
Butterfly Farming/Gardening Consultant Services
Butterfly Farming Manuals, CDs, Instructional Materials
Butterfly Farming Seminars & Internships
Butterfly Gifts, Merchandise, Jewelry, Books
Butterfly Plants, Seeds and Grower's Supplies
Butterfly Pupae Display Boxes
Butterfly Raising Kits (no livestock)
Educational Presentations & Materials
Release Envelopes & Specialty Containers
Website Design, Construction, Hosting Services
---
Website Design, Construction, Hosting Services
---
Canada
ON
Prince Mansoor

Monarch Butterflies
, , Mississauga, ON, L4Z, Canada.
Phone: 18444359359. Fax: 18445359359.
Web: https://www.monarchbutterflies.ca/
Email: Prince Mansoor



We have the largest selection of butterfly items and quality livestock to choose from. Our online store includes the following:


Free organic milkweed seeds

Live monarch, swallowtail and painted lady butterflies for single and mass release

Monarch and painted lady rearing kits

Organic milkweed plants

Largest selection of framed butterflies and exotic moths

Real butterfly jewellery

Spreading boards

And many other butterfly accessories in our gift shop


We also visit schools and events for presentations and seminars in the GTA. All our livestock is available in Canada and all other items are available globally.

Toll Free: 1 8444 FLYFLY (359359)
~ Butterfly Raising Instruction ~
With Nigel Venters, World-Renowned Expert on
Raising Butterflies for a Living, for Exhibits or For Enjoyment
    The Professional Butterfly Farming Manual    
    Desktop Workshops - Online Instruction for Raising Butterflies    
    On-Site Butterfly Rearing Library (free)    
    Two Butterfly Raising Forums (free):    
    The World Wide Butterfly Breeding Forum    
    The WWBB Basic Butterfly Raising List    
(IBBA Member Discounts on all Workshops & Products)
---
The World Wide Butterfly Breeding Forum
(WWBBF)
with Nigel Venters!
Sponsored by the Butterfly Boutique
A place where all are welcome to come and discuss breeding
BUTTERFLIES from all around the World! Experts,
beginners and hobbyists, are all welcome.
All species, all regions FROM AROUND our planet...
---
For anybody, anywhere who wants to learn to
raisebutterflies! Come join the fun and meet
butterfly people from all over the world.
The WWBB Basic Butterfly Raising List is
FREE TO JOIN and is held on Google Groups.
---
Images from Nature
Beautiful photographs of Butterflies, Moths,
Flowers, Landscapes and more.
Website: www.imagesfromnature.net
Photo Blog: www.imagesfromnature.net/ifnblog/
Visit my new Gallery site: www.paulcphotography.com

Natural History Photographs by Paul Chesterfield.
Over 200 full-colour pictures
of butterflies, moths, insects and flowers
in a glossy, hard-cover volume!
Sample pages are on The Butterfly Boutique.
Preview and order direct from blurb.com
---
USA
CA
Kelly Wilcox Travers

Humbug Farms
, , Santa Barbara , CA , , USA.
Phone: 805-964-0727. Fax: .
Web: http://www.humbugfarms.com
Email: Kelly Wilcox Travers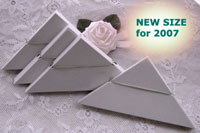 Wholesale Classic Triangle Boxes at www.humbugfarms.com

~~~~~~~~~~~~~~~~~~~~~~~~~~~~~~~~~~~~~~~~~~~~~~~~~~~~~~~~~~~~



Custom Website Design and Programming at www.thepaintedcave.com

~~~~~~~~~~~~~~~~~~~~~~~~~~~~~~~~~~~~~~~~~~~~~~~~~~~~~~~~~~~~



Handcrafted Silver Jewelry at www.kelebekdesigns.com

"celebrate life...!"
---
USA
MI
Mary Bird

Michigan Native Butterfly Farm
, , Petersburg, MI, , USA.
Phone: 734.347.0443. Fax: .
Web: http://www.mibutterflyfarm.com
Email: Mary Bird

Michigan Native Butterfly Farm is dedicated to promoting awareness of the life cycle, habitat, and conservation of butterflies and raising healthy, vibrant Monarch and Painted Lady butterflies for memorable weddings and special occasion releases. We sell a variety of host, nectar, and native plants, as well as butterfly life cycle kits, cages, and books. Our mobile butterfly educational exhibit features butterflies in all stages of development and includes live butterflies that can be fed by hand! We offer educational programs and presentation. Our products include: Wholesale Monarch, Painted Lady and indigenous butterfly species for Butterfly Houses, Garden Centers, Zoos and Exhibits throughout the US, wholesale release envelopes, Sinamay boxes, and pupae pillow shippers. We sell a variety of milkweed, host, nectar, and native plants to garden centers and home gardeners and provide butterfly garden consultation and installation. Butterfly Gardens To Go - We specialize in growing plants that attract butterflies and hummingbirds to the garden. Great info on butterfly gardening too!
Nature Pavilion Gift Shop - Nature, Science, Animal, Insect, Butterfly, Ladybug, Hummingbird, Deer, Elk, Wildlife, and many other themed gifts!
---
USA
HI
Darlene Loo-McDowell

Sharing the Butterfly Experience
Oahu, , Kapolei, HI, 96707, USA.
Phone: (808) 754-6136. Fax: .
Web: http://www.sharingthebutterflyexperience.com
Email: Darlene Loo-McDowell

Raising Monarch butterflies for release and education in Hawaii. I'd love to share the magical butterfly experience with you. Servicing all the Hawaiian islands with butterflies and Oahu with everything that you would need to start a butterfly garden: plants, tents of all sizes to house the caterpillars, and caterpillars. Butterflies also available for releasing into your neighborhood to encourage more butterflies in the area.
---
USA
PA
Jack Mikula

The Butterfly WebSite
22 Charter Oak Court, , Doylestown, PA, 18901, USA.
Phone: 215-340-7693. Fax: 215-340-7695.
Web: http://www.butterflywebsite.com
Email: Jack Mikula

The Butterfly Website is the world's biggest and busiest site dedicated to butterflies. The Nature Store carries butterfly raising kits for kids. We do NOT raise butterflies for releases. We construct and host websites, specializing in butterfly farmers (click HERE)
---