IBBA MEMBERS
To be listed on this page, you must include the relevant Keywords in your Keywords text block in your membership details.
Click link at top right to log in to your membership details update page.
The Butterfly Farm Store!
In the Butterfly Farm Store you can find IBBA members who offer a range of products and services other than live butterflies.
Looking for Live Butterflies? Click HERE.
Please select a category to display:
If no members are displayed, it means that there are currently no members offering items in your selected category.
Butterfly Display Cages & Baskets
Butterfly Farming/Gardening Consultant Services
Butterfly Farming Manuals, CDs, Instructional Materials
Butterfly Farming Seminars & Internships
Butterfly Gifts, Merchandise, Jewelry, Books
Butterfly Plants, Seeds and Grower's Supplies
Butterfly Pupae Display Boxes
Butterfly Raising Kits (no livestock)
Educational Presentations & Materials
Release Envelopes & Specialty Containers
Website Design, Construction, Hosting Services
---
Release Envelopes and Specialty Containers
---
Canada
ON
Prince Mansoor

Monarch Butterflies
, , Mississauga, ON, L4Z, Canada.
Phone: 18444359359. Fax: 18445359359.
Web: https://www.monarchbutterflies.ca/
Email: Prince Mansoor



We have the largest selection of butterfly items and quality livestock to choose from. Our online store includes the following:


Free organic milkweed seeds

Live monarch, swallowtail and painted lady butterflies for single and mass release

Monarch and painted lady rearing kits

Organic milkweed plants

Largest selection of framed butterflies and exotic moths

Real butterfly jewellery

Spreading boards

And many other butterfly accessories in our gift shop


We also visit schools and events for presentations and seminars in the GTA. All our livestock is available in Canada and all other items are available globally.

Toll Free: 1 8444 FLYFLY (359359)
---
USA
CA
Kelly Wilcox Travers

Humbug Farms
, , Santa Barbara , CA , , USA.
Phone: 805-964-0727. Fax: .
Web: http://www.humbugfarms.com
Email: Kelly Wilcox Travers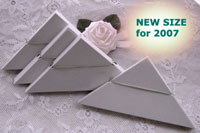 Wholesale Classic Triangle Boxes at www.humbugfarms.com

~~~~~~~~~~~~~~~~~~~~~~~~~~~~~~~~~~~~~~~~~~~~~~~~~~~~~~~~~~~~



Custom Website Design and Programming at www.thepaintedcave.com

~~~~~~~~~~~~~~~~~~~~~~~~~~~~~~~~~~~~~~~~~~~~~~~~~~~~~~~~~~~~



Handcrafted Silver Jewelry at www.kelebekdesigns.com

"celebrate life...!"
---
USA
FL
Chad Limes

A Butterfly Release Company, Inc.
P.O. Box 2243, , Winter Park, FL, 32790, USA.
Phone: 407.754.2353. Fax: .
Web: http://www.butterflyreleasecompany.com
Email: Chad Limes

A Butterfly Release Company - An Event to Remember

Live Butterflies for release available for weddings, celebrations, memorials and other events. We offer monarch butterflies and painted lady butterflies year round and last minute orders are welcome. Be sure to visit our web site and browse a variety of beautiful custom made release products with an abundance of choices for your unique event. Please contact us with any questions about adding Live butterflies to your event. Raise Your Own Butterfly kits are also available for fun and education.
---
USA
FL
Butterfly Farming Supplies

Butterfly Farming Supplies
, , , FL, , USA.
Phone: 352 824 5163. Fax: .
Web: http://www.butterflyfarmingsupplies.com
Email: Butterfly Farming Supplies

Butterfly Farming Supplies is THE shopping place for all your butterfly raising needs. We offer high quality products at reasonable prices and most orders will qualify for FREE SHIPPING! If you are a retailer, we invite you to check out our wholesale program!
---
USA
CA
Alan Chesmore

ButterflyWay.com
1853 Eel River Dr, , Fortuna, CA, 95540, USA.
Phone: 707 725-2424. Fax: 707 725-2424.
Web: http://www.ButterflyWay.com
Email: Alan Chesmore

*Live Butterflies for Release*Seasonal*
*Walk thru Butterfly House*Seasonal*
Small Venue Setting - Officiant Available - Parties with Games
Summer - Fresh Cut Lavender


*Bigfoot and Butterfly TM Gift Shop*
Mythical Bigfoot, Mermaids, Wedding Adornments and other Fun Gifts. Butterfly Release Containers & Naturalist Kits.
Shop Open Friday-Sunday 11-4 Winter-Spring Hours


info@butterflyway.com (707)725-2424 Alan owner
---
USA
FL
Kelly Calabresi

Cloverlawn Butterflies, LLC
, , orlando, FL, , USA.
Phone: 407 896-8389. Fax: .
Web: https://abutterflyrelease.com/
Email: Kelly Calabresi

Cloverlawn Butterflies is a family owned butterfly farm in Orlando Florida. We offer Monarch and Painted Lady butterflies for live butterfly releases. We take pride in our butterflies, customer service and attention to detail is our #1 priority
---
USA
CA
Darryl Swartz

Emma's Butterfly Ranch
4802 Brookway Av, , Yorba Linda, CA, 92886, USA.
Phone: 657 363 2751. Fax: .
Web: http://www.livebutterflyrelease.webs.com
Email: Darryl Swartz

Complete butterfly and butterfly garden services Weddings, Funerals, TV, schools Adults Butterflies Caterpillars monarch,gulf,mourning cloak, lady's
---
USA
TX
Kay Watson

Eva's Garden Butterflies
550 FM 125N, , Linden, TX, 75563, USA.
Phone: 903-826-3363. Fax: .
Web: http://evasgardenbutterflies.com
Email: Kay Watson

Butterflies for release.
Educational presentations and raising kits

---
USA
CA
Keri Wright

Farfalla Butterfly Co.
, , San Diego, CA, 92130, USA.
Phone: 858-480-9449. Fax: .
Web: https://www.farfallabutterflyco.com
Email: Keri Wright

Wholesale and Retail Monarch Butterflies. Live Monarch butterflies for release, Monarch Eggs, Monarch Chrysalis' Butterfly wing jewelry, Butterfly & Caterpillar rearing habitats (pop-ups). We are a San Diego company dedicated to breeding healthy Monarch butterflies for release. We ship Monarch butterflies to states west of the Continental Divide, only. By providing these services we are helping to increase the diminishing Monarch population. You can help too, by planting Milkweed and releasing Monarch Butterflies at your next event.
---
USA
MI
Mary Bird

Michigan Native Butterfly Farm
, , Petersburg, MI, , USA.
Phone: 734.347.0443. Fax: .
Web: http://www.mibutterflyfarm.com
Email: Mary Bird

Michigan Native Butterfly Farm is dedicated to promoting awareness of the life cycle, habitat, and conservation of butterflies and raising healthy, vibrant Monarch and Painted Lady butterflies for memorable weddings and special occasion releases. We sell a variety of host, nectar, and native plants, as well as butterfly life cycle kits, cages, and books. Our mobile butterfly educational exhibit features butterflies in all stages of development and includes live butterflies that can be fed by hand! We offer educational programs and presentation. Our products include: Wholesale Monarch, Painted Lady and indigenous butterfly species for Butterfly Houses, Garden Centers, Zoos and Exhibits throughout the US, wholesale release envelopes, Sinamay boxes, and pupae pillow shippers. We sell a variety of milkweed, host, nectar, and native plants to garden centers and home gardeners and provide butterfly garden consultation and installation. Butterfly Gardens To Go - We specialize in growing plants that attract butterflies and hummingbirds to the garden. Great info on butterfly gardening too!
Nature Pavilion Gift Shop - Nature, Science, Animal, Insect, Butterfly, Ladybug, Hummingbird, Deer, Elk, Wildlife, and many other themed gifts!
---
USA
LA
Michelle Collier

Nature's Magic, LLC
12563 River Road, , Luling, LA, 70070, USA.
Phone: (504) 451-4503. Fax: .
Web: http://www.naturesmagicfarm.com
Email: Michelle Collier

Contact Nature's Magic for Live Butterflies to release at your special event or occasion, school butterfly kits, and Educational presentations. Farm Tours and Butterfly Gardening Design, Build and Maintenance are also available at Nature's Magic if your in the New Orleans Area. -
---
USA
HI
Darlene Loo-McDowell

Sharing the Butterfly Experience
Oahu, , Kapolei, HI, 96707, USA.
Phone: (808) 754-6136. Fax: .
Web: http://www.sharingthebutterflyexperience.com
Email: Darlene Loo-McDowell

Raising Monarch butterflies for release and education in Hawaii. I'd love to share the magical butterfly experience with you. Servicing all the Hawaiian islands with butterflies and Oahu with everything that you would need to start a butterfly garden: plants, tents of all sizes to house the caterpillars, and caterpillars. Butterflies also available for releasing into your neighborhood to encourage more butterflies in the area.
---
USA
NC
Judi Sunshine

Wingin' It Butterfly Farm
6704 Rollingwood Drive, , Raleigh, NC, 27613, USA.
Phone: . Fax: .
Web: http://www.releaseabutterfly.com
Email: Judi Sunshine

Release a butterfly today and make a memory forever!
---